Office Desk In Dubai
If you work from home, you require a quality office desk in Dubai that is suited to your needs. It must meet your specifications and preferences. It should be constructed and designed well. Home office desk available in a wide variety of styles, making it difficult to determine which desk is ideal for you. A desk may appear to be a simple piece of office furniture, but there are numerous factors to consider before making a purchase. The following information will be helpful when selecting a desk for your home office.
Documents or Computer
What kind of work will you be performing at your desk? Does your job primarily involve paper work? If so, you require a desk with ample space on its surface. While working, you will need to keep a variety of files, folders, documents, and other items on the desk's surface. The length and width of the desk should be proportional to its function. A significant advantage of such a desk is that it can accommodate a laptop.
This design, however, is not suitable for desktop computers. If you will be doing the majority of your work on a PC with a monitor, keyboard, mouse, and CPU cabinet, you will need a desk that can accommodate all of these computer components. If you will be using the desk for both paper and computer work, you will need a design that is suitable for both tasks.
PC or Notebook
A laptop does not require an overly-slotted desk. A simple desk with a flat surface will suffice. Nonetheless, a desktop computer necessitates slots in the desk to accommodate all of its components. Ensure the desk has space for additional computer accessories, such as a printer. Less space is required for an all-in-one printer, whereas more space is required for two separate printer and scanner units. If you use a landline phone or fax machine, the desk should have the necessary space or slot.
Corner or Free-Form
There is a corner desk in the corner. Typically, it is not positioned in the centre of the room. The free design is a simple rectangular table that can be placed anywhere. It provides greater flexibility. If you decide to rearrange the room's furniture and belongings in the future, you can relocate such a desk. The shape of the corner desk may be L-shaped or I-shaped. If you select a corner desk, it should have adequate width. When the width of a corner desk is narrow, it is difficult to extend your legs. Occasionally being unable to stretch your feet forward on the floor can place strain on your legs and body.
Do You Need Drawers?
If you already have cabinets or other storage systems in the room, drawers in your home office desk in dubai may not be necessary. However, you may wish to keep all your work-related items in one location. A desk with drawers is an excellent choice. It aids in keeping your desk neat and organized. All small objects may be stored in the drawers. Family members will not look for their own lost items in the desk because they are aware that only office-related items are stored there.
Customized or Standard Design
Standard, ready-to-use home office desks are already commercially available. You simply visit the furniture store, examine the available desks, and purchase the one that meets your needs. There are a variety of standard designs available. You may need to visit multiple stores to find what you require. The benefit of a custom-designed desk is that it can be tailored to your exact specifications. You may have a specific design in mind, but the furniture manufacturer will design your home office desk in dubai to your specifications.
Simple, L- or U-Shaped or Circular Design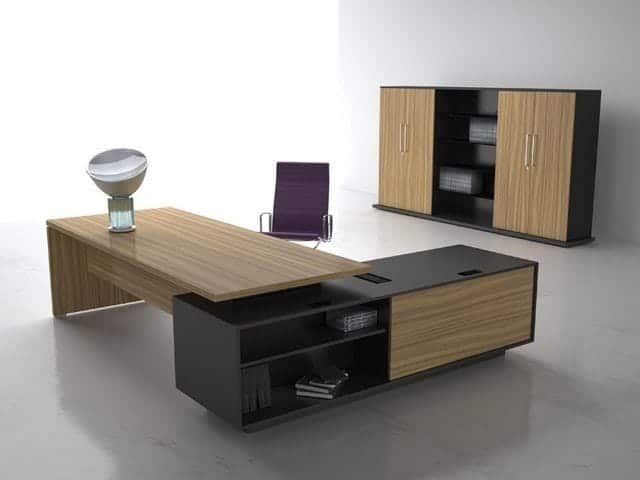 The desk is a simple rectangle that can be placed anywhere in the room. L-shaped desks are appropriate for corner spaces. There is a U-shaped design in the center of the room. This type of desk may be U-shaped or have a slight curve. The U-shaped layout provides increased functionality and adaptability. You may also keep work-related items on your sides. You will have access to significantly more items within arm's reach. However, such a desk cannot be placed in any location. It may be difficult to relocate it if you decide to rearrange the room's furniture.
Allow for more than one occupant
Determine beforehand whether the desk will be used solely by you or by multiple people. Before designing a wall side desk, it is vital to consider this question. A standard rectangle desk can accommodate four or more people simultaneously. This is not the case with an insufficiently long L- or I-shaped desk. Consider multi-user home office desk in dubai if you conduct business with clients from your residence. Your clients will feel at ease when interacting with you. Before purchasing a home office desk, you should solicit the opinion of your coworker if you will be collaborating with someone.
Design, fashion, hue and material
Do you need feet rest in your desk? Should it have a keyboard holder that retracts into the device when not in use? Desks for home offices are available in numerous designs, styles, colors, and materials. Choose a desk that meets your needs and tastes. Choose a desk with a neutral hue. It will complement any interior design motif. While working, you do not want to be distracted by bright colors. Expensive wood or metal can be used to construct costly office desk in dubai. There are easily assembled and disassembled computer desks available. This design is mobile and transportable.
When you consider all of these factors, you will be able to purchase the ideal desk. Desks for the home office can be ordered online or purchased locally. Online retailers offer a vast selection. You can compare prices. The benefit of purchasing from a physical store is the ability to examine the desk in person. It guarantees that you purchase a desk that meets your needs and preferences.
Also, Visit Our Facebook page Salam UAE